Virtual Pasta Making Class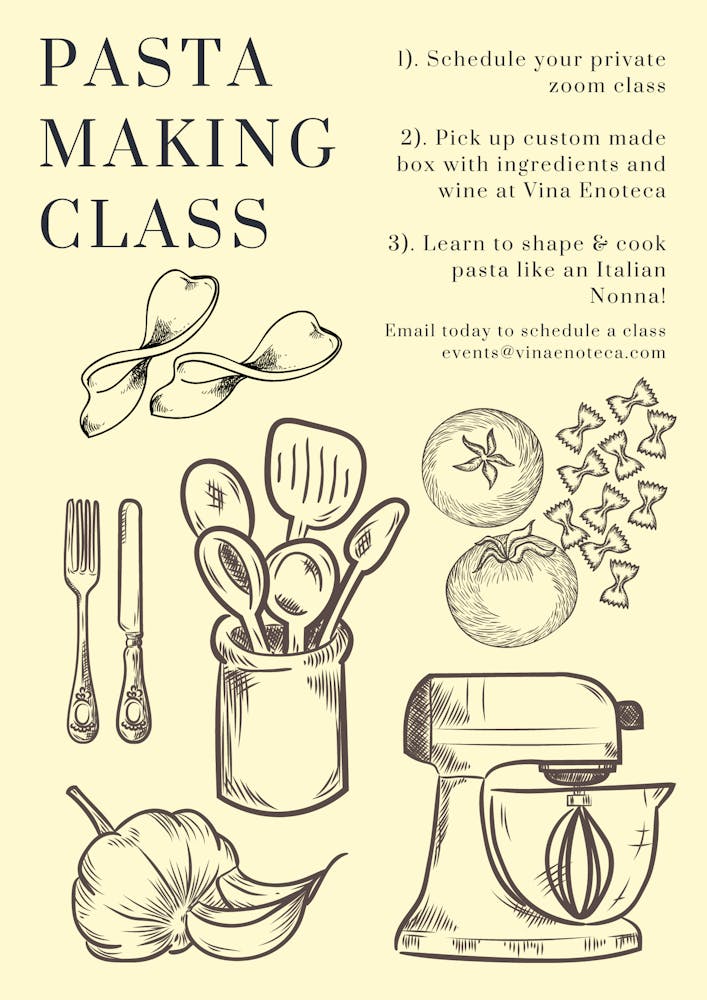 ---
We're proud to announce that Vina Enoteca has been successfully adjusting to social distancing in a variety of creative ways! In addition to our public pasta making classes, our loyal customers also now have the option of scheduling a private pasta making Zoom class.
Here's how it works:
Reach out to events@vinaenoteca.com with your request.
Please include:
Date/time you are interested in your private pasta making class;
Estimated # of guests that will participate;
Interested in wine pairings?
Special occasion? Corporate or other?
Please provide us with any other pertinent information.

Our event manager will work closely with you to create a unique, memorable evening of pasta making.
Typically, the day before your scheduled Zoom Pasta Class, your guests will be responsible for picking up their custom made boxes at Vina Enoteca (local delivery options are available). Included are all the ingredients you will need to create a homemade pasta dinner.
Once the date has been confirmed, we will send out your Zoom link and invite all to tune in as we shape pasta and work together to create a meal from scratch in your own kitchens.
Pasta box with ingredients and a bottle of wine: $100/box.
Looking forward to hosting your next special event.
Ciao!